>
>
>
All Stainless Steel Keyed Drill Chucks

All Drill Chucks are
Made in Japan
All Stainless Steel Keyed Drill Chucks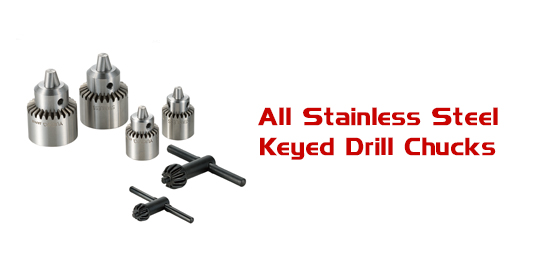 All Stainless Steel Keyed Drill Chucks
YUKIWA All Stainless Steel Keyed Drill Chucks are drill chuck that adopts stainless steel for all of the parts from external through inner parts. In addition, it is safely available for medical, food-processing and chemical use as it is of non-grease specifications.
No Grease Leakage for Safety Use
The possibilities of grease leakage that is a matter concerned about on many occasions in medical, food-processing and chemical uses have been excluded by adopting non-grease specifications. Although some of stainless steel drill chucks made by other manufacturers are applied with grease to provide with enough chucking force, our stainless steel drill chuck has achieved strong chucking force even though it is of non-grease specifications through our know-how that has been accumulated through long-year production of drill chucks.
The Same Performance as Previous JIS-certified Model
YUKIWA SEIKO INC. is an only company in Japan that has acquired certifications of Drill Chuck Standard (JIS B4634) for machine tools based on JIS; Japan Industrial Standards. Although all stainless steel keyed drill chuck is not covered by the standards of JIS, it can be used safely for variety kinds of use as its performance is the same as the one of JIS certified drill chucks in its accuracy, chucking force and durability.


All Stainless Steel Keyed Drill Chucks

Code No.
Model No.
Taper Mount
Capacity
Dimensions (inches)
Uses
Key No.
Weight
oz.
inches
mm
D1
D2
L1
L2
Min.
Max.
Min.
Max.
1003007
SL4
0JT
0.01
0.16
0.3
4.0
0.83
0.59
1.36
1.10
JH-4
45
1009008
SL6.5EL
1JT
0.02
0.26
0.5
6.5
1.26
0.87
1.95
1.57
JH-5
145
* One piece of steel chuck handle accompanies to this product as a standard accessory.
* Anti rust oil is applied to the chuck surface before shipment. When the chuck is used in the operation
which dislikes oil, remove the oil before using.
* For the strength and durability in the all-stainless steel specifications, the martensitic stainless steel
is used as the material. Since it is easier to rust than other stainless steels, remove the moisture from
the chuck and clean it up after using.
* In the environment filled with many chlorine ions (such as a coastal area) or outdoors, the corrosion
resistance of the chuck may be lost remarkably. Remove the moisture from the chuck and clean it up
after using. Then, perform the anti-corrosion treatment, if necessary.