>
>
>
Keyed Drill Chucks for Portable Drills

All Drill Chucks are
Made in Japan
Keyed Drill Chucks
for Portable Drills
for KK or KG Key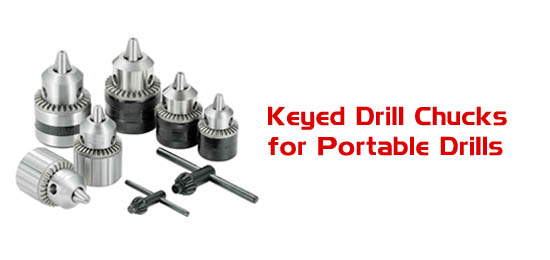 Keyed Drill Chucks for Portable Drills
Yukiwa Keyed Drill Chucks for Portable Drills Chucks are the lightweight drill chucks tightened by the chuck key which have been developed for the electric power drills and the air drills. They are mounted on the thread type spindles and most useful drill chucks when the total weight of the tool must be lighter. The customer can select the chuck from the maximum capacities of 6.5mm, 10mm and 13mm.
High Performance for Lightweight
The sleeve is made of steel to lighten the chuck. Since the chuck is lightweight, the user of the portable electric power drill or the air drill can operate with the high performance, and, the load of user will lighten.
Stable Run-out Accuracy
The selected materials of excellent quality are used for the body, cover, jaws and nut, and the proper heat-treatments are done on them. Therefore, the wear resistance is excellent and the stable run-out accuracy is kept for a long time. Since the qualities of all parts are controlled, the run-out accuracy of the chuck is less than 0.2mm. If the chucks are used for mass-production at the manufacturers of electric power tools or air tools, the run-out accuracy is determined after consulting.
Keyed Drill Chucks for Portable Drills for KK or KG Key
* Keyed Drill Chucks for Portable Drills are suitable for Cordless and Corded Light Duty Portable
Drills, being designed to be of compact-size and of light weight.
* Compact and small sized with a superior quality.
* Having high quality, long life, and gripping torque equivalent to those of the industrial chucks.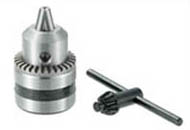 Model NP
Ground Sleeve with Black Band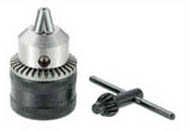 Model M
Black oxide Sleeve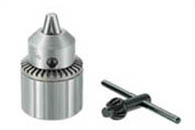 Model M10FG
Ground Fluted Sleeve
Code No.
Model No.
Thread
Mount
Capacity
Dimensions (inches)
Uses
Key No.
Weight
OZ
inches
mm
Open
length
Closed
length
Sleeve
Dia.
Min.
Max.
Min.
Max.
1022011
NP13K
1/2-20
0.059
0.512
1.5
13
2.82
2.26
1.66
CKK
12.1
1104001
M10FG
3/8-24
0.031
0.394
0.8
10
1.91
2.30
1.36
CKG
5.7
1105001
M10FK
3/8-24
0.031
0.394
0.8
10
1.91
2.30
1.36
CKK
5.7
1101002
M6.5LB
3/8-24
0.028
0.256
0.7
6.5
1.57
1.99
1.16
CKG
3.4
1102001
M10LB
3/8-24
0.059
0.394
1.5
10
1.83
2.28
1.34
CKG
5.4
1103002
M10LK
3/8-24
0.059
0.394
1.5
10
1.83
2.28
1.34
CKK
5.4
1107001
M13LK
3/8-24
0.059
0.512
1.5
13
2.28
2.84
1.67
CKK
12.5
* One Chuck Key is attached as standard accessory in the case of an individual purchase.
* For LB and LK, the shape and number of the bevel gear on the chuck key are different.