Corporate informaiton

Business Network
Products to the World and to meet varieties of needs.
Our bases of production are head office plant in Ojiya-city, Niigata and Kainosawa plant in Kawaguchi, Nagaoka-city, Niigata. And our bases of domestic sales are located in Tokyo, Nagoya and Osaka. Moreover, we located oversea bases in the U.S.A. and Shanghai, China. Yukiwa supply the products which meets varieties of needs not only towards all of Japan but also towards European and Western countries, major Asian countries, and the broad Area in the world.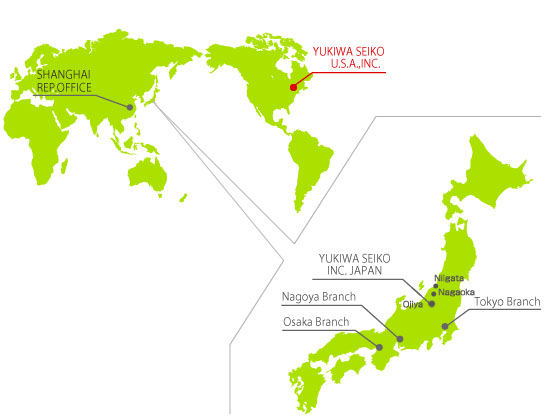 YUKIWA SEIKO U.S.A. INC.
8227 H. Arrowridge Blvd.
Charlotte, N.C. 28273
TEL: +1-704-527-3003
FAX: +1-704-523-3993


YUKIWA SEIKO INC. Japan
2600-1, Chiya, Ojiya-city, Niigata-pref., 947-0052, Japan
TEL:+81-258-82-1800 (General)
    +81-258-81-1111 (Sales)
FAX:+81-258-81-1112


Kainosawa Factory
111-1, Kainosawa, Ushigashima, Kawaguchi, Nagaoka-city, Niigata-pref., 949-7505, Japan
TEL:+81-258-81-4111
FAX:+81-258-81-4112


YUKIWA SEIKO INC.SHANGHAI REP. OFFICE
Room 302, Suite B, Oriental International Plaza, No.85 Lou Shan Guan Road, Shanghai City, China 200336
TEL: +86-21-6270-9020
FAX; +86-21-6270-9019


Tokyo Branch
12-12, Tsukagoshi 5-chome, Warabi-city, Saitama-pref., 335-0002, Japan
TEL:+81-48-434-7101
FAX:+81-48-434-6101


Nagoya Branch
1307, Yamanoda, Nagakute-City, Aichi-pref., 480-1113, Japan
TEL:+81-561-64-0300 (Domestic)
TEL:+81-561-61-1400 (Overseas)
FAX:+81-561-64-0303


Osaka Branch
3-7, Shinjo-higashi, Higashi-Osaka-City, 578-0951, Japan
TEL: +81-6-6748-2020
FAX: +81-6-6748-2030